Outdoor kitchen products in Boise
What's a perfect way to start the summer? Building an outdoor kitchen! It'll be the perfect opportunity for your friends and neighbors to come over and enjoy a BBQ in your new outdoor living space. With Basalite retaining walls and decorative pavers you can add variety and create interest to your outdoor patio area. Check out our Basalite DIY videos. They are great for building outdoor kitchens, patios, pathways, and much more.
Where to buy outdoor kitchen products?
Here at Victory Greens Stone & Garden Center, we offer a large variety of Basalite products to help build your outdoor kitchen that will be sure to satisfy your every taste. With our do-it-yourself videos and guidance, we'll show you all of our options and explain the benefits of the products available to you based on your needs and design requirements. We look forward to serving you and helping you build your new outdoor living space.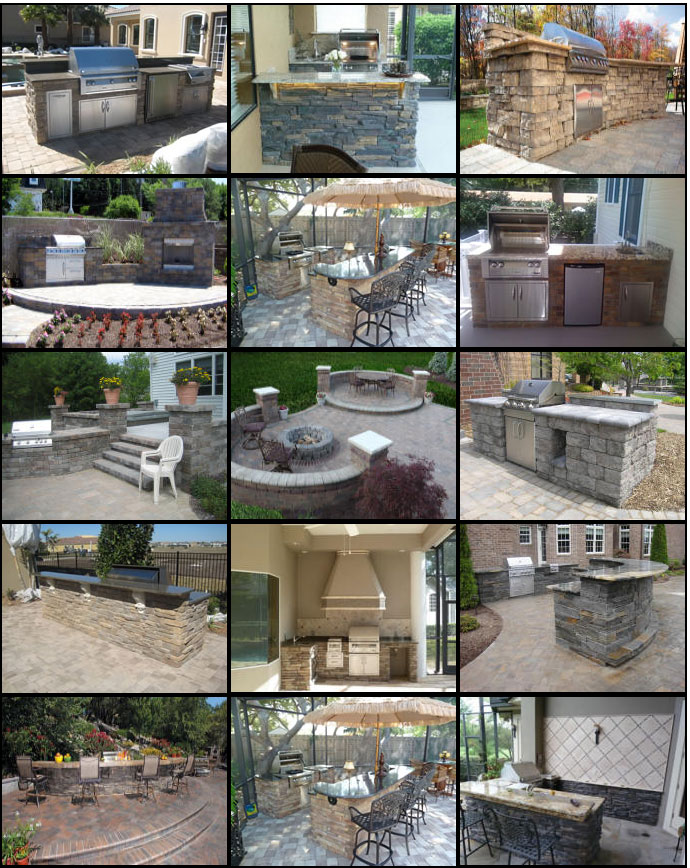 Seven reasons to build an outdoor kitchen
An outdoor kitchen doesn't require a lot of space
It really does not take much room to build a functional outdoor kitchen. Most people enjoy spending time outdoors and an outdoor kitchen will invite a welcomed change to the typical routine of cooking indoors. Imagine browsing through a few outdoor kitchen designs and being able to come up with an idea to create a beautiful summer kitchen. We can turn a small amount of space into a gathering place that the whole family can enjoy. We can help you turn your back yard into the envy of all your neighbors.
Convenience
It's easy to carry food out to your outdoor kitchen. It is as convenient to cook outside, as indoors if you have the essentials you need readily available. With a modest investment you can incorporate an outdoor grill and refrigerator and you're halfway there. Design a bar top area for seating, and before you know it, you have the makings of your outdoor restaurant that is much more convenient than having to go to town and have dinner. Just picture this restaurant and bar in the privacy of your own back yard.
BBQ smell stays outside
Depending on who's in the kitchen, there is the occasional odor of cooking certain foods like, seafood or broccoli that is not so pleasant. Cooking outside eliminates the problem of unwanted food odors in your house. Just think, after the evening meal most of us are ready to take a load off, so now the cleanup outside is much easier.
Grilled food is healthier
When you grill outdoors, you are cooking in a healthy way. It requires very little skill to grill tasty, less greasy food. Obviously, less greasy food is better for you. Enjoy an assortment of rubs and marinades to obtain the great flavors that aren't even found in the finest restaurants. Sear your steak and it will retain its moisture and take on a unique flavor different from your indoor kitchen. Try creative grilling techniques and your family will cherish spending time in your new outdoor living space.
More Family Time
Once you have created your outdoor kitchen space the family will hang out in the backyard patio area at meal time. It will be a perfect time to catch up on life. There is something about being in your comfort zone after a relaxing BBQ, staying at home encourages priceless family time.
More Social Time
Once you have mastered the art of cooking outdoors, it is time to invite the neighbors over for some BBQ fun. Show them your BBQ skills and have a laugh or two. Try out a new recipe or drink and change a simple meal into an event. Your friend and relatives will love coming over. Before you know it, you will build a fire pit in your patio area and relax after the parties in front of a crackling fire.
Durability and valuation
The timeless addition of an outdoor kitchen will add value to your home. Any investment made by adding an outdoor kitchen, fire pit or an outdoor fireplace will only add value to your homes resale. Hardscaping is very durable and requires little maintenance. Your summer kitchen will be a labor of love, but will translate into money saved at the end of the day, not to mention the fun you will have!
Servicing the entire Boise valley including, Eagle, Nampa, Caldwell, Kuna, Star, Middleton, Notus, Parma, Mountain Home, Homedale and Ontario Oregon. We quote reasonable rates on deliveries to McCall, Cascade, Garden Valley, Donnelly, Horseshoe Bend and Sun Valley, Idaho.