---
Check out the varieties of fire pits we offer to the Treasure Valley
Here is a video explaining the different types, colors and accessories available!
Sun Valley Firepit
Stonewall II Firepit
Lakeland Grand Firepit
Lakeland Compact Firepit
Lakeland Victorian Firepit
---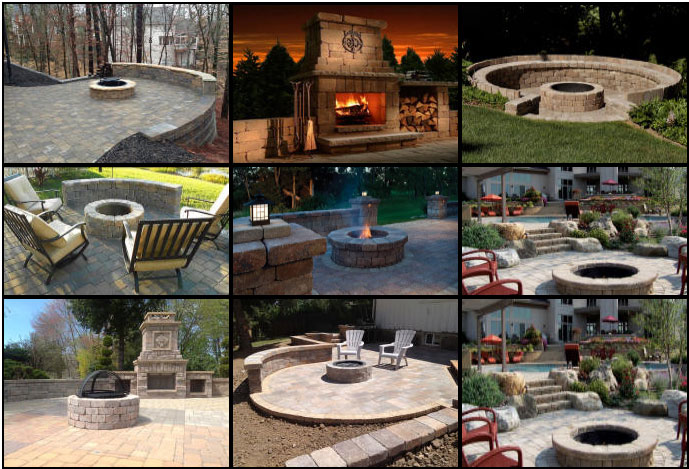 How to choose a fire pit that best suits your backyard
A fire pit can be as simple as using sand or gravel as a base and stacking natural stones to contain the flames. While safety is important, designing the perfect plan for your fire pit includes budget, needs, & style.
Some fire pits are designed to be the focal point of the patio area, these fire pits take center stage and may overlook the landscape, while others are placed in a discrete area with limited seating for privacy.
When deciding on the hardscape material, consider how natural stone, brick pavers, concrete products or tile may absorb the heat from lava rock, river rock and even glass beads can be luring options to replace a simple sand base. Basalite and Paving Stone fire pit kits are designed with these features in mind. They are an investment that will last a lifetime! They're aesthetically beautiful, functional and provide the perfect opportunity to relax after a day in the sun!
Also, they are extremely user friendly even if you're not usually a DIYer! Check out how fast it is to assemble!!
---
ACCESSORIES
– Cooking Grate
– Smoking chimney 
– Warming rack
– Custom fit cover
– Spark guard

---
Whether your do-it-yourself project is completed in a couple of hours or whether you enjoy steps and phases to expand your design along with your happy memories, it's a given that your fire pit will be a cost-friendly way to not only add warmth, light, and atmosphere to your back yard but it will also add value to your home and lifestyle. Come by Victory Greens Stone yard and let us assist you with your project. We would be honored to serve you!
Contact us today and we will help you design your own fire pit space in your backyard!